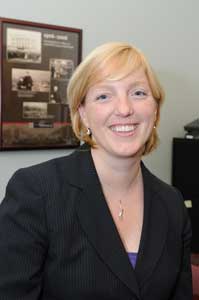 Gretchen Brodnicki, J.D.
Dean for Faculty and Research Integrity
Gretchen A. Brodnicki, JD, became Dean for Faculty and Research Integrity in July 2008. She is responsible for overseeing a coordinated approach to research policy setting, implementation, and compliance, including responsibility for the Office of Research Issues on issues of conflict of interest, research misconduct, student misconduct, and authorship disputes.
As Dean she works closely with other senior colleagues at HMS and the Harvard affiliated institutions. She serves as liaison with the Harvard University Office of General Counsel on research related issues as well as other matters; ensures compliance with regulatory requirements; serves as an ad hoc member of the University's ESCRO Committee; and provides advice and consultation to the Dean of the Faculty of Medicine, faculty and senior administrators in areas of faculty and research integrity.
Prior to coming to Harvard Medical School, Ms. Brodnicki was Director of Research Compliance for Partners HeathCare System, Inc., which includes four Harvard Medical School teaching hospitals -- Brigham and Women's Hospital, Massachusetts General Hospital, McLean Hospital, and Spaulding Rehabilitation Hospital. Before joining Partners, she served as the Director of Research Compliance for Beth Israel Deaconess Medical Center.
Before her work with the hospitals, she was engaged in the private practice of law in the areas of civil litigation and health care. She represented clients in intellectual property disputes as well as in corporate, regulatory, and transactional matters with an emphasis on fraud prevention, practice integration, and risk management.
Ms. Brodnicki received a BS in Business Administration from Gannon University in Erie, Pennsylvania, and her JD in 1996 from Suffolk University Law School in Boston, Massachusetts.