Rigor, Reproducibility and Responsibility at HMS
Mission Statement
Advances in modern biomedical research require the continuous development of and support for a culture that advances research rigor, reproducibility and responsibility (R3). HMS is committed to identifying, exploring, and supporting R3 principles relevant to our research community through cross-discipline conversations and collaborations. The HMS R3 effort will be responsible for identifying opportunities to further support R3, with a focus on organizational development, training and educational programs, and resources and tools for our students, trainees, faculty, and staff to support the continued advancement of research excellence at HMS.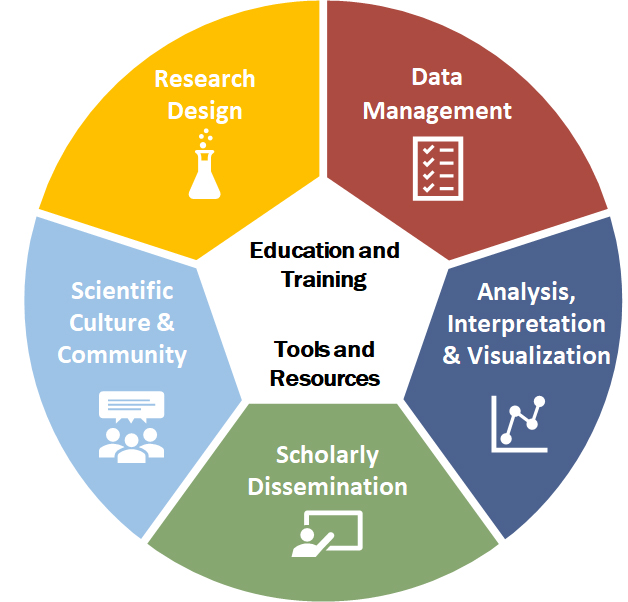 Exploring the Pillars of R3

The HMS Effort has worked to organize discussions and resource identification and development around key elements (or "Pillars") of rigorous, reproducible and responsible research as identified by our community and represented in the above "Pillars of R3" diagram.

These R3 Pillars include robust research design, prioritization and implementation of data management strategies, thoughtful analysis and interpretation of experimental outcomes and research data, clarity and transparency in data dissemination, and engagement in our community regarding these core concepts in research culture and practice. The R3 Pillars are not meant to be prescriptive, nor are they mutually exclusive; these areas are often already routinely interwoven together in our daily work as researchers and scientists. This HMS R3 web portal further explores these Pillars in an effort to identify, recognize and cultivate tools and resources, education and training opportunities in R3 principles for our entire community. The following annotated diagram of the R3 Pillars provides a guide as to how we organize information throughout the site currently under each R3 Pillar:

History of the HMS R3 Effort

The importance of R3 principles to the success, efficient execution, and long-term value of biomedical research is recognized by HMS, and the global research community, including funding agencies and publishers. This recognition has led to an increasing number of program requirements and publication policies intended to encourage R3 practices across biomedicine. The R3 Effort is working to establish meaningful collaborations across HMS, building upon HMS's culture of integrity, high academic and research standards, and efforts targeted at promoting societal scientific confidence. In order to begin to formally organize support for the R3 efforts at HMS, the School established an R3 Working Group in early 2019. The Working Group is led jointly by the Office for Academic and Research Integrity and the Office of Research Operations and Global Programs. It, along with its Advisory Committee, includes representation from Graduate Education, Medical Education, the Office of Research Administration, HMS Research Computing, Countway Library, and HMS and HSDM Departmental faculty representation. Together, the HMS R3 Committee is working to identify opportunities to optimally support R3 at our institution, with a focus on the development of R3-relevant training and educational programs, and of resources and tools for our students, trainees, faculty, and staff.